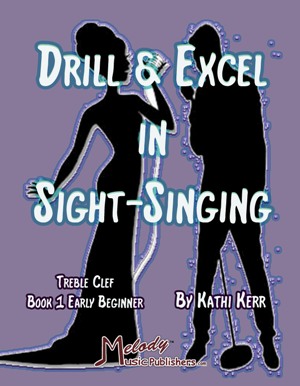 How to Sight-Sing is Now a New Addition to Melody Music Publishers
What exactly IS sight-singing? The definition of sight-singing is singing the printed notes without someone playing them on an instrument. Have you or your student ever wanted to sight-sing? Welcome the new book at Melody Music Publishers, "Drill & Excel in Sight-Singing Book 1". It can be difficult at first to acquire, and with this step-by-step approach, you can! Imagine singing in a choir or a lead or backup singer in a band singing the notes right off the page! No more needing to hear them played. "Drill & Excel in Sight-Singing Book 1" is for the early beginner and no previous reading skill is needed. It includes vocal exercises, note reading assignment pages, rhythm drills, scale and interval drills, and 180 original songs. Best of all, there are accompaniment audios on the website to sing along with the exercises and songs.
Sight-Singing For Music Majors
If you were a music major in college, you probably had to take sight-singing classes. The problem with most college courses is it's "expected" that you already know how to sight-sing. If you're not a piano or vocal major, this skill can be daunting. As a piano performance major, it was always easy for me to sight-sing. However, I remember the percussion majors, and even stringed instrument students, struggling with this skill. When I began teaching voice and sight-singing, I realized there needed to be a book designed to approach it in a step-by-step way. If you're a young student who intends to make music your major in college, this is a must-need book no matter what your instrument. You'll be years ahead of your colleagues, having gone through this book.
Sight-Singing For Choir Members
What about singing in a school or church choir? Most choir directors have to take time in the rehearsal to go over parts, especially for the alto, tenor, and bass that aren't singing the melody. What if each choir member could read the notes for themselves without the pianists playing them? How much more can be accomplished in the rehearsal without taking the time to plunk out notes?
Sight-Singing For Lead/Backup Singers In a Band or Studio Musician
What about lead or backup singers in a band, or studio musicians? This book will greatly benefit them. Time is money, so if a singer can walk in a studio and be handed a lead sheet and be able to sing the notes, he or she will most likely be hired. If a lead or backup singer in a band can sight-sing, it will take less time in rehearsal.
The Singer is in Control
Being able to sight-sing puts you, the singer, in the driver seat. No more relying on an instrumentalist to play your part; YOU can sing it for yourself!
Sight-Singing Takes Time
The skill of sight-sing does take time to acquire. This 128-page book may take students a year or more to finish, however the rewards are great! Order your copy of "Drill & Excel in Sight-Singing Book 1" today and begin to learn the excellent (and fun) art of sight-singing!
Would you like to preview each page of the book? Watch our movie where the author goes through every page with commentary and audio.

Kathi Kerr founded Melody Music Studios in 1989, a nationwide music instruction studio. Then in 2017, she founded Melody Music Publishers, an independent publishers for piano and singing method books, and how students think and learn.